[ READ DESCRIPTION ]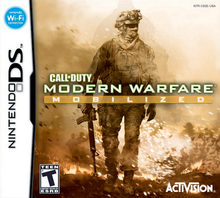 Call of Duty: Modern Warfare Mobilized is out! It's just like Call of Duty 4: Modern Warfare, but updated graphics, text, events, etc. First-Person-Shooter.
More Description
-First-Person-Shooter (in other words, First Person P.O.V. Gun game)
-Requires the Stylus to Play (use stylus to move gun)
-Moving: Use control pad
-L/R to fire
-You are one of the troops that will save parts of the world
-Bombs to shut off, Computers to hack, and more!
Last edited by Admin on Tue Dec 08, 2009 2:55 am; edited 2 times in total